Migas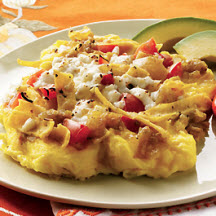 Migas means crumbs. Migas are popular in Texas and can be found on many breakfast menus. Use your left over tortilla chips to make this quick and easy dish. Makes a great weekend breakfast, brunch or supper!
Recipe Ingredients:
1 cup green (tomatillo) salsa
2 plum tomatoes, diced
6 (6-inch) corn tortillas halved, cut into thin strips
12 large eggs, beaten
1/2 cup queso fresco, crumbled
Cooking Directions:
Coat 12-inch nonstick skillet with ovenproof handle with cooking spray; heat over medium heat until hot.
Add salsa and tomatoes; cook and stir 2 minutes.
Add tortilla strips; stir to coat.
Cook 1 minute.
Pour eggs over mixture in skillet. As eggs begin to set, gently pull the eggs across the pan with an inverted turner, forming large soft curds. Continue cooking - pulling, lifting and folding eggs - until thickened and no visible liquid egg remains. Do not stir constantly.
Sprinkle cheese over eggs.
Broil 6 inches from heat source until cheese softens, 2 to 3 minutes.
Makes 6 servings.
Tips:
To make handle ovenproof, wrap it completely in aluminum foil.

Substitute: Queso fresco is a fresh crumbly Mexican cheese. A fresh goat cheese or a mild feta can be substituted.
Nutritional Information Per Serving (1/6 of recipe): Calories: 255; Total Fat: 14g; Saturated fat: 5g; Polyunsaturated fat: 2g; Monounsaturated fat: 5g; Cholesterol: 384mg; Sodium: 424mg; Carbohydrates: 16g; Dietary Fiber: 2g; Protein: 17g; Vitamin A: 803IU; Vitamin D: 84.4IU; Folate: 79.9mcg; Calcium: 191.7mg; Iron: 2.5mg; Choline: 254.2mg.
Recipe and photograph provided courtesy of the American Egg Board (AEB) and Egg Nutrition Center (ENC).