Overnight Whole-Wheat French Toast with Praline Topping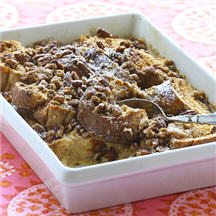 When you want to spend more time with your family in the morning instead of in the kitchen, breakfast casseroles are the answer. This French toast casserole is a great choice for brunch, too!
Recipe Ingredients:
French Toast:
Nonstick cooking spray
1 (1-pound) loaf whole-wheat French bread, sliced into 1-inch pieces (10 to 12 slices total)
8 large eggs
2 (12-ounce) cans NESTLÉ® CARNATION® Evaporated Lowfat 2% Milk
2 tablespoons granulated sugar
1 tablespoon vanilla extract
1/2 teaspoon ground cinnamon
1/2 teaspoon ground nutmeg
Praline Topping:
1/4 cup unsalted butter, at room temperature
1/2 cup brown sugar, firmly packed
1/2 teaspoon ground cinnamon
1/4 teaspoon ground nutmeg
1 cup chopped pecans
Powdered sugar and maple syrup (optional)
Cooking Directions:
For French Toast: Preheat oven to 350°F (175°C). Spray 3-quart or 13x9x2-inch baking dish with nonstick cooking spray.
Place bread slices on large baking sheet. Bake, flipping bread slices halfway through, for 25 minutes or until dry and just golden. Turn off oven. Cut bread slices in half; layer in prepared baking dish.
Whisk together eggs in large bowl; whisk in evaporated milk, sugar, vanilla extract, cinnamon and nutmeg. Pour over bread, pressing bread to submerge. Spoon some of the mixture between the slices if needed. Cover tightly and refrigerate for at least 8 hours or overnight.
For Praline Topping: Preheat oven to 350°F (175°C).
Combine butter, brown sugar, cinnamon and nutmeg in large bowl; stir until smooth. Stir in pecans until coated. Uncover casserole; sprinkle evenly with pecan topping.
Bake for 45 to 50 minutes or until puffed and golden brown. Sprinkle with powdered sugar. Serve with maple syrup. Serve immediately.
Makes 6 to 8 servings.
Recipe and photograph are the property of Nestlé® and Meals.com, used with permission.