Protein Packed Pancakes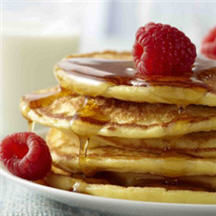 Serve these hearty egg and ricotta cheese pancakes with your favorite syrup or preserves, and/or toppings such as raspberries, strawberries, sliced bananas and chopped pecans. This is an ideal pancake to serve as the entrée for any meal of the day, from breakfast to supper.
Recipe Ingredients:
6 large eggs
1 cup ricotta cheese
1/2 cup all-purpose flour
2 tablespoons melted butter or vegetable oil
3/4 teaspoon baking powder
1/2 teaspoon salt
1/2 teaspoon vanilla extract
Cooking Directions:
Beat eggs, cheese, flour, oil, baking powder, salt and vanilla in large bowl until blended.
Heat lightly greased large nonstick skillet or griddle over medium heat until hot.
Spoon 1/4 cup portion of batter (1 tablespoon for silver dollar size) into skillet; cook until golden brown, turning once.
Makes 12 pancakes or 48 silver dollar pancakes; 4 servings.
Tips:
Always pre-heat skillet or griddle before cooking pancakes. Pan is hot when drops of water sizzle and dance on surface.

Cook pancakes in batches. Serve immediately or keep warm on a plate in a low (200°F) oven until all batter is used.

Make your own freezer pancakes, ready to pop in the toaster on those hurried weekday mornings.

To freeze: Cool pancakes on wire racks. Return to baking sheets; freeze in single layer 1 to 2 hours. Wrap well, individually or stacked; freeze up to 1 month.
Nutritional Information Per Serving (1/12 of recipe): calories: 303; total fat: 18g; saturated fat: 9g; polyunsaturated fat: 2g; monounsaturated fat: 6g; cholesterol: 313mg; sodium: 544mg; carbohydrates: 16g; dietary fiber: g; protein: 18g; vitamin A: 820.5IU; vitamin D: 69.5IU; folate: 72.1mcg; calcium: 278.4mg; iron: 2.4mg; choline: 201.4mg.
Recipe and photograph provided courtesy of the American Egg Board (AEB) and Egg Nutrition Center (ENC).