Queso Huevos Rancheros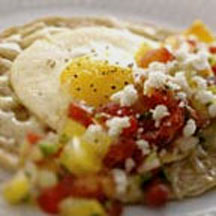 Classic south-of-the-border breakfast fare, cheese and eggs ranch-style.
Recipe Ingredients:
2 cups tomatoes, diced
1 small onion, diced
1 clove garlic, minced
2 tablespoons lime juice
1 jalapeño pepper, seeded and minced
2 tablespoons fresh cilantro, chopped
1/4 teaspoon salt
1/2 teaspoon ground black pepper
1/4 cup (2 ounces) butter - divided use
4 (6-inch) corn tortillas
3/4 cup (6 ounces) Wisconsin Queso Quesadilla Cheese, shredded*
4 large eggs
1/4 cup (1 1/2 ounces) Wisconsin Queso Fresco Cheese, crumbled
Cooking Directions:
Preheat oven to 300°F (150°C).
Make salsa in medium bowl, gently toss together tomatoes, onion, garlic, lime juice, jalapeño, cilantro, salt and pepper; set aside.
Heat 2 tablespoons butter in skillet over medium heat. Add tortilla and fry for 10 to 15 seconds, flip and sprinkle with 3 tablespoons Queso Quesadilla. Cook 10 to 15 seconds more, place tortilla on baking sheet and place in heated oven; repeat with remaining tortillas. Warm tortillas in oven until cheese is fully melted, about 2 minutes.
In large skillet over medium heat, melt remaining butter and cook eggs, sunny-side up or over-easy.
Place warm, cheese-topped tortilla on plate, top with egg, smother with salsa and top with 1 tablespoon crumbled Queso Fresco; serve. Repeat with remaining tortillas.
Makes 4 servings.
*If Wisconsin Queso Quesadilla Cheese is not available, you may substitute Wisconsin Monterey Jack, or Wisconsin Muenster.
Recipe and photograph provided courtesy of Wisconsin Milk Marketing Board, Inc.