Scrambled Egg and Mozzarella Breakfast Pizza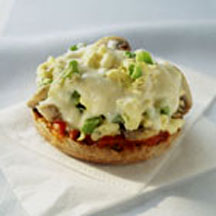 Easy, tasty and fun little breakfast pizzas your kids will love!
Recipe Ingredients:
1 whole wheat English muffin
2 mushrooms, sliced
2 green onions, finely chopped
4 tablespoons diced green or red bell pepper
1/2 cup egg substitute
1/4 teaspoon ground black pepper
Oregano or Italian seasoning, dash
4 teaspoons pizza sauce
1/2 cup shredded low-moisture, part-skim Mozzarella cheese
Cooking Directions:
Preheat oven to 350°F (175°C).
Split English muffin in half and toast; set aside.
Heat a small non-stick skillet over medium heat. Add mushrooms, green onions and bell pepper. Cook, stirring continuously for 2 minutes, or until vegetables are softened. Stir egg substitute, pepper and oregano into vegetable mixture. Cook, stirring continuously until egg substitute is set, about 2 minutes.
Spread 2 teaspoons of pizza sauce onto each English muffin half. Spoon a quarter of the egg mixture over pizza sauce and top with a quarter of the cheese. Spoon the remaining egg mixture and cheese evenly on top of the muffins. Place the muffins on a baking sheet and bake* for 5 minutes, or until cheese is melted.
Makes 2 servings.
*Or, bake in a toaster oven at 350°F (175°C) for 5 minutes.
Nutritional Information Per Serving (1/2 of recipe):: Calories; 190; Total Fat 5 g; Saturated Fat 3 g; Cholesterol 15 mg; Sodium 520 mg; Calcium 30% Daily Value; Protein 17 g (7 grams from dairy); Carbohydrates 19 g; Dietary Fiber 3 g.
Recipe and photograph provided courtesy of 3-A-Day of Dairy.