Smoky California Quiche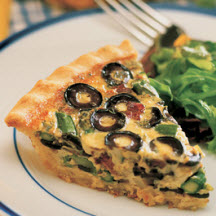 Recipe courtesy of California Ripe Olives.
Recipe Ingredients:
6 ounces bacon, chopped
1/2 cup diced leeks (1/4-inch)
1 cup blanched asparagus tips, chopped into 1/2-inch pieces
1 cup sliced California Ripe Olives
1 1/2 teaspoons chopped thyme
1/4 teaspoon kosher salt
1/8 teaspoon ground black pepper
4 large eggs, beaten
1 cup whole milk, heated slightly
1 (9-inch) pre-baked pie crust
Cooking Directions:
Preheat a medium-sized sauté pan over medium heat. Add bacon and cook for 4 to 6 minutes until browned. Stir in leeks and continue to cook for 2 to 4 minutes until leeks are softened and bacon is crispy.
Strain excess grease from pan, then mix in asparagus, California Ripe Olives, thyme, salt and pepper. Remove from heat and set aside.
In a large mixing bowl, whisk together eggs and warmed milk. Stir in vegetable mixture and pour into prepared pie crust.
Bake in a 375°F (190°C) oven for 40 to 45 minutes.
Cool on a rack for 5 to 10 minutes, then cut into wedges.
Serve warm or room temperature.
Makes 6 servings.
Nutritional Information Per Serving (1/6 of recipe): Calories: 408; Total Fat: 29g; Cholesterol: 171mg; Total Carbs: 19g; Fiber: 2g; Protein: 17g.
Recipe and photograph courtesy of California Ripe Olives.