Sundried Tomato Quiche in Crispy Potato Crust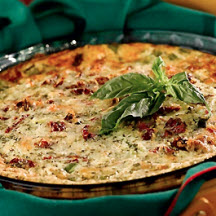 Recipe courtesy of the American Egg Board.
Recipe Ingredients:
Crispy Potato Crust:
Non-stick cooking spray
1 large potato, thinly sliced
Filling:
4 large eggs
1 1/2 cups whipping cream
1 teaspoon dried basil
1 teaspoon dried oregano
1/4 teaspoon sea salt
1/8 teaspoon ground red pepper
1 (3-ounce) package sun-dried tomatoes, chopped (1 cup)
1/4 cup chopped green onions
1 cup chopped ham
1 1/2 cups shredded Swiss cheese (6 ounces)
Cooking Directions:
For Crispy Potato Crust: Preheat oven to 425°F (220°C). Coat a deep (9-inch) pie pan with cooking spray. Arrange potato slices in bottom and up sides of pan, overlapping slightly, to form crust. Spray potatoes with cooking spray. Bake in 425°F (220°C) oven until potatoes are lightly browned and slightly crisp, 20 to 25 minutes.
For Filling: Beat eggs, cream, basil, oregano, salt and pepper in medium bowl until blended.
Remove crust from oven. Reduce oven setting to 350°F (175°C).
Layer tomatoes, green onions, ham and cheese evenly in crust. Pour egg mixture slowly over cheese.
Bake in center of 350°F (175°C) oven until center is almost set but jiggles slightly when pan is gently shaken and knife inserted near center comes out clean, 40 to 50 minutes. Let stand 5 minutes Cut into wedges.
Makes 6 servings.
Nutritional Information Per Serving (1/6 of recipe): Calories: 475; Total Fat: 34g; Saturated Fat: 20g; Cholesterol: 264mg; Total Carbs: 22g; Fiber: 3g; Protein: 22g; Sodium: 751mg.
Recipe and photograph courtesy of the American Egg Board.