Sweet Potato Turkey Hash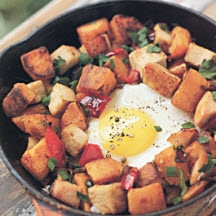 Recipe courtesy of Chef Sara Foster of Foster's Market in Durham, North Carolina.
Recipe Ingredients:
1 large sweet potato, peeled and cut into 1/4-inch dice
1 tablespoon butter
2 tablespoons olive oil - divided use
1 small red onion, peeled and chopped
1 red bell pepper, cored, seeded and diced
1 pound skinless, cooked turkey breast, cut into 1/2-inch dice
Salt and ground black pepper to taste
4 large eggs
1 tablespoon chopped fresh chives
1 tablespoon chopped fresh flat-leaf parsley
Cooking Directions:
Place sweet potatoes in a saucepan; add enough water to cover by 1-inch; bring to a boil and cook 3 to 4 minutes, until potatoes are just barely tender; drain well and set aside.
Heat butter and 1 tablespoon vegetable oil in a large skillet over medium-high heat; add onion and red pepper and cook until lightly brown, about 4 to 5 minutes.
Add sweet potatoes. Cook, stirring 6 to 7 minutes, until sweet potatoes are crispy. Add remaining oil and turkey; season with salt and ground black pepper and cook for 1 to 2 minutes.
Make 4 (3-inch) holes in hash and break an egg into each hole. Reduce heat to low, cover and cook 4 to 5 minutes until eggs are cooked to desired degree of doneness.
Sprinkle with chives, parsley and additional salt and ground black pepper if desired. Serve immediately.
Makes 4 servings.
Recipe and photograph courtesy of the North Carolina Sweet Potato Commission.