Urban Table Idaho® Morning Potatoes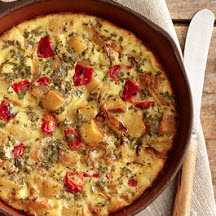 Recipe courtesy of Brad Gilmore, Executive Chef at the Urban Table in Kansas.
Recipe Ingredients:
1 pound Yukon Gold Idaho® potatoes, cooked
1/2 cup diced roasted red peppers
1/2 cup caramelized onions
1 tablespoon freshly grated Parmesan cheese
1 tablespoon herb seasoning blend
9 large eggs
1/2 cup milk
Cooking Directions:
Preheat oven to 325°F (160°C).
Combine the cracked eggs, milk, Parmesan and herb blend. Mix well and set aside.
Sauté the potatoes, roasted red peppers and caramelized onions on medium high heat in a nonstick skillet.
Add the milk and egg mixture to the sautéed vegetables and slightly scramble.
Put skillet in oven for 15 to 20 minutes until firm to the touch.
Makes 6 servings.
Recipe and photograph courtesy of the Idaho Potato Commission.