Amaretto Pear Upside Down Cakes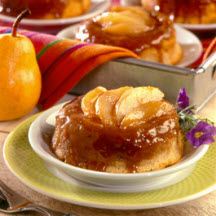 Recipe courtesy of California Pear Advisory Board."
Recipe Ingredients:
10 tablespoons butter - divided use
1/2 cup brown sugar, packed
2 tablespoons honey
2 large ripe Bartlett pears, peeled and cored
1 1/2 cups all-purpose flour
1/2 cup granulated sugar
1 1/2 teaspoons baking powder
3/4 teaspoon ground cinnamon
1/4 teaspoon salt
2 large eggs
1 teaspoon vanilla extract
1/2 cups milk
1/4 cup Amaretto or other almond flavored liquor*
Cooking Directions:
Preheat oven to 350°F (175°C). Butter six (1 1/4-cup) custard cups, ramekins, or giant muffin tins.
Melt 4 tablespoon butter in a small saucepan. Add brown sugar and honey; cook over low heat for about 2 minutes until mixture no longer separates. Divide mixture evenly among prepared dishes.
Cut each pear into 12 wedges and place 4 wedges in the bottom of each dish; set aside.
In a medium bowl, beat remaining 6 tablespoon butter until light and fluffy. Beat in eggs and vanilla extract.
In a separate bowl, combine all dry ingredients.
Combine milk and Amaretto in another bowl.
Add half of the dry ingredients to the butter and sugar mixture, then half of the liquid, beating well after each addition.

Repeat until all ingredients are combined.
Pour batter into the six prepared dishes, smoothing the top.
Bake for 25 to 30 minutes until cooked through.
Remove from oven and place on a rack for 10 minutes. Carefully flip each dish over onto serving plates to remove from dish.

Serve immediately.
Makes 12 servings.
*1 teaspoon of almond extract may be used in place of the almond liquor. If using extract, increase the milk to 3/4 cup.
Nutritional Information Per Serving (1/6 of recipe): Calories: 616; Total Fat: 28g; Cholesterol: 136mg; Total Carbs: 82g; Fiber: 3g; Protein: 8g; Sodium: 264mg.
Recipe and photograph courtesy of California Pear Advisory Board.