Buttermilk-Walnut Coffee Cake with Orange Essence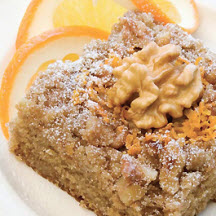 Recipe courtesy of Walnut Marketing Board.
Recipe Ingredients:
2 1/4 cups all-purpose flour
2 teaspoons ground cinnamon - divided use
1/2 teaspoon salt
1/4 teaspoon ground ginger
1 cup light brown sugar, packed
3/4 cup granulated sugar
2 tablespoons freshly grated orange zest
3/4 cup vegetable oil
1 cup chopped California walnuts
1 teaspoon baking powder
1 teaspoon baking soda
1 cup buttermilk
1 large egg
Cooking Directions:
Preheat oven to 350°F (175°C). Grease a 13x9x2-inch baking pan or coat with nonstick cooking spray.
Combine flour, 1 teaspoon of the cinnamon, the salt and ginger and sift together into a large bowl. Add the brown sugar and granulated sugar and stir until the sugars are mixed evenly with the flour. Add the orange zest and oil and stir until the mixture is damp and crumbly.
Remove 3/4 cup of the crumbly mixture to a small bowl and add the walnuts and the remaining 1 teaspoon ground cinnamon. Set aside, to use for topping later.
Add the baking powder and baking soda to the mixture in the large bowl, then stir and toss to combine.
In a separate bowl, beat together buttermilk and egg, add to the flour mixture. Stir just until the batter is blended; do not over-mix, some lumps are okay. Pour into the prepared baking pan and sprinkle evenly with the reserved topping mixture.
Bake 40 to 45 minutes, or until the center of the cake springs back when pressed lightly, or a toothpick inserted in the middle comes out clean.
Makes 1 (13x9x2-inch) coffee cake; 20 servings.
Nutritional Information Per Serving (1/20 of recipe): Calories: 250; Total Fat: 13g; Saturated Fat: 1g; Cholesterol: 10mg; Total Carbs: 31g; Fiber: 1g; Protein: 3g; Sodium: 160mg.
Recipe and photograph courtesy of Walnut Marketing Board.