Cake and Ice Cream "Pops"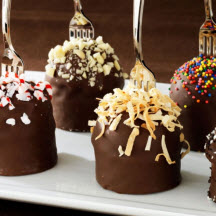 These adorable chocolate-covered cake and ice cream treats are almost as enjoyable to make as they are to eat, and because they are so easy, young cooks can join in the fun of making them, too!
Recipe Ingredients:
1 (10 to 12-ounce) purchased pound cake
1 pint ice cream, flavor of choice
1 1/2 bottles (7.25-ounces each) hard coating chocolate topping
8 to 10 plastic mini forks or wooden picks
Multi-color sprinkles
Finely chopped nuts
Crushed chocolate sandwich cookies
Chopped peppermint stick
Toasted coconut
Cooking Directions:
Remove pound cake from packaging. Slice a piece 1/4-inch thick off 1 end*. Cut remaining cake into 3/4-inch thick slices. Cut into circles using a 1-3/4-inch diameter cookie cutter*.
Place circles on a tray lined with plastic wrap.
Place a scoop of ice cream about 1-3/4-inch in diameter** on top of each cake circle. Place tray in freezer for 45 to 60 minutes or until ice cream is firm.
Pour chocolate topping into bowl. Remove cake from freezer. Insert plastic fork into each piece of cake. Dip into chocolate topping. Dip into dry topping of choice. Place on serving tray. Return to freezer 5 to 10 minutes or until outside of "pops" are firm.
Makes 12 servings.
*Break leftover pieces of pound cake into small pieces and serve another time topped with fresh fruit and whipped cream.
**A scoop 1-3/4-inches in diameter is equivalent to a #20 scoop.
Tip: Use holiday flavors of ice cream such as pumpkin, cranberry or caramel to make the dessert festive.
Recipe and photograph provided courtesy of Butterball®; through ECES, Inc., Electronic Color Editorial Services.