Chocolate Bear Birthday Cake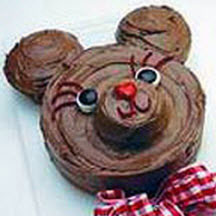 No need for a special baking pan to bake this chocolate bear birthday cake, just two (9-inch) baking pans will do it.
Recipe Ingredients:
1 (18.25-ounce) package chocolate cake mix
1 1/3 cups water
3 large eggs
4 ounces plain yogurt
3 cups powdered sugar
1/2 cup butter, softened
1/4 cup half-and-half
1 teaspoon vanilla extract
2 (1-ounce) squares baking chocolate, melted
2 (1-ounce) squares semisweet or milk chocolate, grated
1 ounce cinnamon gum drops
3 tablespoons sweetened flake coconut
1 tablespoon colored sugar sprinkles
Cooking Directions:
Preheat oven according to directions on cake mix package. Grease and flour two 9-inch round cake pans.
In a large mixing bowl, combine chocolate cake mix, water, eggs and yogurt. Beat on the low speed of an electric mixer until moistened. Mix on medium speed for 2 minutes. Divide between the prepared pans and bake for 25 to 30 minutes, or until set. Cool for 10 minutes before removing from pans. Cool on wire racks.
Meanwhile, mix together powdered sugar, butter, half-and-half and vanilla in a medium bowl. Beat until smooth. Set 1/2 cup of frosting aside. Beat melted chocolate into the remaining frosting.
When cakes have cooled completely, cut three 2 3/4-inch circles from one cake layer. Cut a flat edge on two of the circles to form ears. Attach remaining circle to form a snout. Frost cake as desired and decorate with grated chocolate, gum drops, coconut and sugar sprinkles.
Makes 14 to 16 servings.