Gingerbread with Warm Cranberry Compote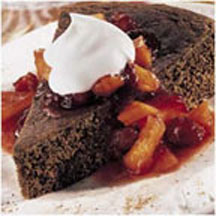 A gingerbread mix puts the ease in preparing this winter holiday dessert, complete with a warm, cranberry compote.
Recipe Ingredients:
1 (14.5-ounce) package gingerbread cake mix
2 cups Ocean Spray® Fresh or Frozen Cranberries
3 cups pineapple chunks, cut in half
1 cup packed brown sugar
1 teaspoon ground cinnamon
1/4 teaspoon ground nutmeg
Whipped cream
Cooking Directions:
Prepare gingerbread as directed on package. Cool completely.
Combine remaining ingredients, except whipped cream, in a medium saucepan. Bring mixture to a boil and cook just until the cranberries begin to pop, stirring frequently. Cool sauce slightly.
Spoon warm compote over each serving of gingerbread. Top with whipped cream.
Makes 9 servings.
Nutritional Information Per Serving (1/9 of recipe): Cal. 353 (17% DV), Fat Cal. 54, Pro. 2g (4% DV), Carb. 73g (24% DV), Fat 6g (9% DV), Chol. 0mg (0% DV), Sod. 328mg (13% DV), Vit. A 3RE (0% DV), Vit. C 8mg (13% DV), Vit. E 1mg (2% DV), Calcium 63mg (6% DV), Iron 3mg (14% DV), Folate 11Ug (2% DV), Zinc <1mg (2% DV), Pot. 280 mg (7% DV), Dietary Exchange: Fruit 1, Other Carbohydrate 3, Fat 1.5.
Recipe and photograph provided courtesy of Ocean Spray Cranberries, Inc.