Honey and Lemon Green Tea Cupcakes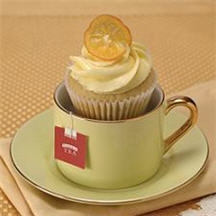 The perfect cupcake to share with friends over a cup of fragrant hot tea.
Recipe Ingredients:
Cupcakes:
1 green tea bag
1/2 cup boiling water
2 cups unbleached all-purpose flour
1/2 teaspoon baking soda
1/2 teaspoon baking powder
1/2 teaspoon salt
Zest and juice (1/4 cup) of one lemon
1/4 cup buttermilk
1/2 cup butter, softened
3/4 cup orange blossom honey*
2 large eggs
Candied Lemon Slices and Honey Lemon Frosting:
4 cups powdered sugar, sifted
1/4 cup lemon juice
1/4 cup orange blossom honey*
1 lemon, thinly sliced
1/2 cup butter, softened
1/2 teaspoon lemon zest
Cooking Directions:
For Cupcakes: Preheat oven to 350°F (175°C).
Pour boiling water over tea bag and steep 3 minutes. Remove tea bag and allow tea to cool.
Sift together flour, baking soda, baking powder and salt; set aside.
In a liquid measure, combine green tea, lemon zest and juice, and buttermilk; set aside.
In a mixing bowl, cream butter until fluffy. Add honey; mix well. Add eggs, one at a time. Add half of the reserved dry ingredients to the butter mixture; mix on low until just combined. With mixer running on low, slowly add the lemon tea mixture. Add remaining dry ingredients until just combined.
Fill paper-lined muffin tins 2/3 full.
Bake 18 to 22 minutes, or until a wooden pick inserted in center of a muffin comes out clean. Remove to wire rack; cool.
Frost and decorate with Honey Lemon Frosting and Candied Lemon Slices, if desired.
For Candied Lemon Slices and Honey Lemon Frosting: Preheat oven to 200°F (95°C).
Pour honey in a small skillet and add lemon slices in a single layer. Bring to a boil over medium heat. Reduce heat and simmer for 15 to 20 minutes, turning slices occasionally. Remove from heat; reserve syrup.
Place slices on a parchment-lined cookie sheet and bake 10 minutes. Turn slices and bake an additional 10 minutes or until slices are dry.
In a mixing bowl, cream butter until light and fluffy. Add 2 cups of powdered sugar; mix well. Slowly add cooled reserved syrup and lemon juice and zest; mix well. Add remaining powdered sugar; beat well.
Makes 12 to 14 cupcakes.
*Any mild-flavored honey such as clover may be used.
Recipe and photograph courtesy of the National Honey Board.