Honey Roasted Pineapple Cupcakes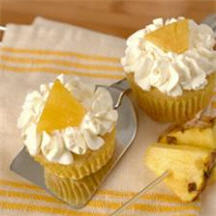 These exotic cupcakes, made with roasted fresh pineapple, are crowned with a fluffy honey pineapple whipped cream topping and garnished with a wedge of roasted pineapple. A tropical cupcake that's sure to be a hit—especially with those who love pineapple desserts.
Recipe Ingredients:
Cupcakes:
1/2 fresh pineapple
2 tablespoons butter
1/2 cup wildflower honey* - divided use
1 tablespoon fresh ginger, minced
1/4 cup buttermilk
2 cups unbleached all-purpose flour
1/2 teaspoon baking soda
1/2 teaspoon baking powder
1/2 teaspoon salt
1/2 cup butter
2 large eggs
Honey Pineapple Whipped Cream:
1 cup heavy whipping cream
1 tablespoon wildflower honey*
2 tablespoons pineapple syrup
14 pineapple wedges
Cooking Directions:
For Cupcakes: Preheat oven to 375°F (190°C).
Remove rind from pineapple, slice and cut into small wedges.
Put 2 tablespoons butter in a 13x9x2-inch pan and place in oven 2 to 3 minutes, until melted. Remove from oven and add 1/4 cup honey; stir. Place pineapple wedges in a single layer; return pan to oven. Roast for 10 minutes, turn wedges over and roast an additional 10 minutes. Remove pan from oven to a cooling rack.
Reduce oven temperature to 350°F (175°C).
Remove 14 wedges from pan; set aside.
Measure 2 tablespoons of pineapple syrup from pan; set aside.
Place remaining pineapple and syrup in a food processor and pulse until coarsely chopped.
Place 3/4 cup of pineapple mixture in a liquid measuring cup. Add ginger and buttermilk; set aside.
Sift together flour, baking soda, baking powder and salt; set aside.
In a mixing bowl, cream 1/2 cup butter until fluffy; scraping sides of bowl, as necessary. Add 1/4 cup honey; mix well. Add eggs, one at a time, scraping down sides of bowl after each addition. Add half of the reserved dry ingredients to the butter mixture; mix on low until just combined. With mixer running on low, slowly add the buttermilk mixture. Add remaining dry ingredients until just combined.
Fill paper-lined muffin tins 2/3 full.
Bake 18 to 22 minutes, or until a wooden pick inserted in center of a muffin comes out clean. Remove to wire rack; cool.
Frost with Honey Pineapple Whipped Cream, if desired.
For Honey Pineapple Whipped Cream: In a mixing bowl, combine whipping cream, honey and syrup. Beat until peaks form. Spread or pipe onto cupcakes. Garnish with pineapple wedges.
Makes 12 to 14 cupcakes.
*Any mild-flavored honey such as clover may be used
Recipe and photograph provided courtesy of the National Honey Board.