Manhatten Cake From Scratch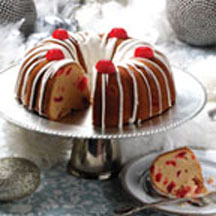 The star of your holiday table will be this spirited cake!
Recipe Ingredients:
Cake:
2 (10-ounce) jars maraschino cherries
4 large eggs
1 tablespoon grated fresh orange zest
3/4 cup Maker's Mark bourbon
2 tablespoons red (sweet) vermouth
2 1/2 cups all-purpose flour
2 cups granulated sugar
1 teaspoon baking powder
1/2 teaspoon baking soda
1 1/2 teaspoon salt
16 tablespoons (2 sticks or 8 ounces) butter, cut into chunks, softened

Glaze:
1 cup powdered sugar
2 tablespoons Maker's Mark bourbon
Cooking Directions:
Preheat oven to 350°F (175°C).
Drain cherries and reserve 6 cherries for garnish; roughly chop remaining cherries.
In a medium bowl, whisk together eggs, orange zest, bourbon, and vermouth until combined. Set aside.
In a large bowl, combine flour, sugar, baking powder, baking soda, and salt. Blend with an electric mixer on low speed, adding butter, 1 chunk at a time. When all butter has been incorporated, beat at medium-low speed until mixture is crumbly, about 30 seconds.
With mixer on low, add egg mixture in a steady stream. Scrape down the sides of the bowl, increase speed to medium-high, and beat until batter is light and fluffy, about 2 minutes. Stir in chopped cherries.
Lightly grease or spray a non-stick Bundt® pan, and pour batter evenly into pan. Bake in preheated oven on a lower rack until a toothpick inserted into the middle of the cake comes out clean, about 40 to 45 minutes, rotating the pan halfway through baking. Let cool for 15 minutes in the pan.
While the cake is cooling, make the glaze. In a small bowl, mix together the glaze ingredients until smooth.
Unpan the cake onto a cookie sheet or serving platter and drizzle with glaze while cake is still slightly warm. Garnish with reserved maraschino cherries.
Makes 10 to 12 servings.
Recipe created by the Kathy Casey Food Studios for the National Sweet Cherries Foundation.
Recipe and photograph provided courtesy of NationalCherries.com, through ECES, Inc., Electronic Color Editorial Services.