Mile-High Buttermilk Cake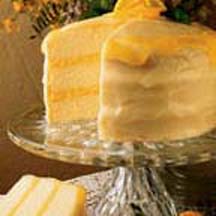 If you love lemon meringue pie, you will love this magnificent layered cake with its sweet-tart lemon curd filling and creamy butter glaze.
Recipe Ingredients:
Cake:
4 cups cake flour or 3 cups all-purpose flour
1 teaspoon baking soda
1/2 teaspoon baking powder
1 cup butter
3 cups granulated sugar
1 teaspoon lemon extract
2 cups buttermilk
6 egg whites
Filling:
1 cup granulated sugar
1/4 cup cornstarch
1/4 teaspoon salt.
1 cup water
3 egg yolks
1 tablespoon butter
4 teaspoons shredded lemon peel
1/2 cup lemon juice
Butter Glaze:
1 cup milk
3 tablespoons all-purpose flour
1 cup butter
1 cup granulated sugar
Cooking Directions:
For Cake: Stir together flour, soda, and baking powder.
In large mixing bowl, beat butter on high speed of electric mixer for 30 seconds. Add sugar; beat until fluffy. Beat in lemon extract. Add flour mixture and buttermilk alternately, beating after each addition. Add egg whites; beat at medium speed for 2 minutes.
Divide cake batter among 3 waxed-paper-lined 9 x 2-inch round baking pans.
Bake in a preheated oven at 350°F (175°C) for about 30 minutes. Cool in pans for 10 minutes; remove from pans. Cool on wire racks.
For Filling: In saucepan combine sugar, cornstarch and salt. Gradually stir in 1 cup water. Cook and stir until thickened and bubbly; cook and stir 2 minutes more. Gradually stir about half of the hot mixture into egg yolks. Return all to saucepan; cook and stir 2 minutes. Remove from heat; stir in butter and shredded lemon peel. Stir in lemon juice. Cover with plastic wrap; cool.
For Butter Glaze: In small saucepan combine milk and flour. Cook and stir until thickened; cook and stir 1 minute more. Cover with plastic wrap; cool. In small mixing bowl, beat butter for 30 seconds. Add sugar; beat until fluffy. Add cooled milk mixture; beat until fluffy.
To assemble: Set aside 1/4 cup filling. Place 1 cake layer on serving plate. Spread with half of remaining filling. Add second cake layer; spread other half of filling on top. Add third layer. Frost cake with glaze; drizzle with reserved filling. Garnish with lemon slices, if desired.
Makes 12 servings.
Recipe and photograph provided courtesy of Wisconsin Milk Marketing Board, Inc.