Molten Chocolate Cake with Candied Walnuts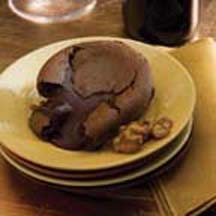 This molten-centered chocolate cake is gloriously decadent—the way a holiday dessert should be.
Recipe Ingredients:
For the Cake:
6 ounces semi-sweet chocolate
2 ounces bittersweet chocolate
3/4 cup unsalted butter
3 egg yolks
3 whole eggs
3/4 cup granulated sugar
3/4 cup all-purpose flour
For the Walnuts:
3 cups walnuts, toasted
13/4 cup granulated sugar
Pinch kosher salt
Cooking Directions:
For the Cake: Butter 8 six-ounce ceramic ramekins and dust with flour. In a bowl over a double-boiler melt the butter and chocolate, set aside and let cool. In a mixing bowl, use electric mixer to combine eggs and sugar until pale yellow butter holds shape and forms ribbon on beaters. Blend flour into egg-sugar mixture with the mixer for 3 minutes. Add chocolate mixture being careful to incorporate everything; mix for 2 more minutes. Pour about 6 ounces of batter into each ramekin and refrigerate for 1 hour.
In a preheated 475°F (245°C) oven, bake ramekins on a cookie sheet for 10 to 12 minutes or until they are puffed up and don't jiggle when moved. Remove from oven and serve immediately. Can be served with chocolate sauce or whipped cream.
For the Walnuts: Cook sugar until melted and slightly amber colored. Mix walnuts, sugar and salt together; being sure to coat the nuts and let cool on a non-stick surface such as a slit pad or bakers paper.
Makes 8 servings.
Recipe by Colin Crowley, Executive Chef at Terlato Wines International.
Recipe and photograph provided courtesy of www.napavalleyholiday.com, through ECES, Inc., Electronic Color Editorial Services.