One-Bowl Spice Cake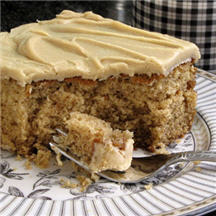 Making this homemade spice cake is as easy as placing all the ingredients into a mixing bowl, beat for 2 minutes, then spread the cake batter into a prepared pan and bake. It's just that easy!
Frost this cake with our recipe for Caramel Frosting for the perfect cake and frosting flavor combination.
Recipe Ingredients:
1 1/3 cups milk
1 tablespoon plus 1 teaspoon white distilled vinegar
2 1/2 cups all-purpose flour
1 cup granulated sugar
3/4 cup brown sugar, firmly packed
2/3 cup vegetable shortening
2 teaspoons baking powder
1 1/2 teaspoons baking soda
1 teaspoon kosher or sea salt
1 teaspoon ground cinnamon
3/4 teaspoon ground allspice
1/2 teaspoon ground cloves
1/2 teaspoon ground nutmeg
3 large eggs
Cooking Directions:
Preheat oven to 350°F (175°C)*. Grease and lightly flour** a 13x9x2-inch baking pan, or 2 (9 x 1 1/2-inch) round pans. Set aside.
First place the milk and vinegar in a large mixing bowl, stir and then add the remaining ingredients and beat on low speed just until ingredients are wet, increase speed to medium-high and continue beating for 2 minutes. Pour batter into prepared pan(s).
Bake a 13x9x2-inch cake for 45 minutes, or until tested done***.
Bake the 9-inch round cakes for 35 to 40 minutes, or until tested done.
Cool cake(s) on a wire rack. (Cool the 9-inch cakes on wire racks for 10 minutes, then remove from pans and cool completely on wire racks.)
When cake is completely cool, frost with Caramel Frosting or as desired.
Makes 12 servings.
*If using a dark baking pan(s) or glass baking dish, reduce oven temperature to 325°F (160°C).
**If serving the cake directly from the 13x9x2-inch baking pan, there is no need to dust with flour. Flouring a greased baking pan simply makes removal of the baked cake from the pan easier.
***To Test Cake: A cake is done when a wooden pick inserted near center of cake comes out clean, or cake springs back when touched lightly in the center.
Nutritional Information Per Serving (1/12 of recipe): 350.3 calories; 35% calories from fat; 13.8g total fat; 62.0mg cholesterol; 429.8mg sodium; 135.8mg potassium; 51.8g carbohydrates; 0.9g fiber; 31.5g sugar; 51.0g net carbs; 5.2g protein.
Recipe and photograph by Hope Cantil; copyright © 1999; property of CooksRecipes.com. See Terms of Use.