Pineapple Upside-Down Cake 2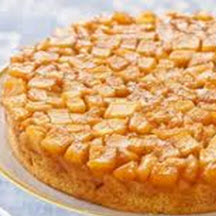 This outstanding version of the classic pineapple upside-down cake uses fresh pineapple.
Recipe Ingredients:
For the Topping:
1/4 cup butter or margarine, melted
2/3 cup firmly packed light brown sugar
3 cups 1-inch chunks fresh pineapple*
For the Cake:
1 1/2 cups all-purpose flour
1 1/2 teaspoons baking powder
1/2 teaspoon salt
1/2 teaspoon ground cinnamon
1/2 cup butter, softened
2/3 cup granulated sugar
2 large eggs
1 teaspoon vanilla extract
3/4 cup milk
Whipped cream or vanilla ice cream, as an accompaniment
Cooking Directions:
Preheat oven to 350°F (175°C).
For the Topping: In a small bowl or glass measure, combine the melted butter and brown sugar, mixing well. Spread mixture evenly in a greased 9 x 2-inch round cake pan.
Pat the fresh pineapple dry with paper towels and arrange it evenly on top of the sugar mixture.
To Prepare Cake: Whisk together the the flour, baking powder, salt, and cinnamon in a bowl.
In another bowl, cream the butter and sugar using an electric mixer until the mixture is light and fluffy, add the eggs and vanilla and beat well. Add the flour mixture alternately with the milk, beginning and ending with the flour mixture, beating well after each addition. Pour the batter into the pan evenly over the topping
Bake for 30 to 35 minutes, or until a wooden pick inserted in the center comes out clean. Let the cake cool in the pan on a wire rack for 10 to 15 minutes. Run a thin knife around the edge, and invert the cake onto a plate. Serve the cake warm or at room temperature with the whipped cream or the ice cream, if desired.
Makes 6 to 8 servings.
*Or use 1 (20-ounce) can pineapple chunks, well drained and patted dry with paper towels.