Pineapple Upside Down Wisconsin Gouda Cake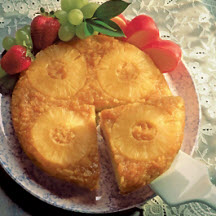 Recipe courtesy of Wisconsin Milk Marketing Board.
Recipe Ingredients:
1 (8-ounce) can pineapple slices
1/4 cup unsalted butter, melted
1/2 cups light brown sugar, packed
3/4 cup all-purpose flour
1 teaspoon baking powder
1/4 teaspoon salt
1/4 cup unsalted butter, softened
3/4 cup granulated sugar
2 large eggs
1 cup (4 ounces) Wisconsin Gouda cheese, finely shredded
Sweetened whipped cream for accompaniment (optional)
Cooking Directions:
Preheat oven to 375°F (190°C). Line the bottom of a round 8x8x2-inch cake pan with parchment or waxed paper. Set aside.
Drain the pineapple slices, reserving 1/2 cups juice. (Add water to make 1/2 cups if necessary.)
Combine melted butter, brown sugar and 1/4 cup of the pineapple juice. Spread mixture in prepared cake pan. Arrange 3 or 4 pineapple slices over mixture. Set aside.
Stir together flour, baking powder and salt in a mixing bowl.
In another bowl, cream butter and sugar with an electric mixer. Add eggs, one at a time, beating well after each addition.
Add flour mixture and beat on low speed until well combined.
Stir in remaining pineapple juice and cheese.
Spread batter over pineapple slices in cake pan.
Bake for 30 to 35 minutes.
Cool 10 minutes and carefully invert onto serving platter. Remove pan and paper. Serve warm with whipped cream, if desired.
Makes 6 servings.
Recipe and photograph courtesy of Wisconsin Milk Marketing Board.