Prairie Spice Cake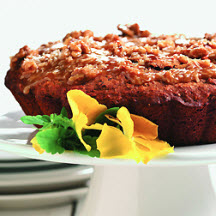 A hearty, dense spice cake made with oats, whole wheat and barley flours, ground flax, lentil puree, raisins and dates.
Recipe Ingredients:
Cake:
1/2 cup rolled (old-fashioned) oats
1 1/2 cups whole wheat flour or multi-grain flour
1/4 cup barley flour
1/2 teaspoon salt
1 teaspoon ground cinnamon
1 teaspoon baking soda
1/4 cup flax
2 teaspoons baking powder
1/4 cup ground flax
1/2 cup canola oil
2 large eggs
1 teaspoon vanilla extract
2/3 cup honey
1 1/2 cups lentil purée*
1/2 cup raisins
1/2 cup chopped dates
Broiler Icing:
2/3 cup brown sugar, packed
1/4 cup butter or margarine
2 tablespoons cream or milk
1/4 cup sweetened flaked or shredded coconut
1/4 cup walnuts or pecans
Cooking Directions:
For Cake: Preheat oven to 350°F (175°C).
In bowl combine rolled (old-fashioned) oats, whole wheat flour, barley flour, salt, cinnamon, baking soda, flax, baking powder and ground flax.
In another bowl mix together canola oil, eggs, vanilla extract, honey and 1 cup lentil purée.
Combine flour mixture, raisins and dates with lentil purée. Mix and add to wet ingredients.
Spread mixture into a greased and floured 13x9x2-inch baking pan and bake for 25 to 30 minutes. Ice with Broiler Icing.
For Broiler Icing: Combine all ingredients together in small saucepan. Heat and stir until hot and sugar is dissolved. Spread over cake. Return to oven until it bubbles well, about 3 to 5 minutes.
Makes 16 servings.
*To Make Lentil Purée: Wash 1 1/2 cups lentils. In a sauce pan cover lentils with 3 3/4 cups of water. Bring to a boil and reduce heat. Cover and simmer until lentils are tender about 40 to 50 minutes. Drain, reserving the stock. Blend lentils, adding enough stock to make purée the consistency of canned pumpkin. As purée forms, stop and stir often until purée is smooth.
Tip: Can bake cake in a fluted 8-cup baking pan.
Nutritional Information Per Serving (1/16 of recipe): Calories: 320; Total Fat: 14g; Saturated Fat: 3g; Cholesterol: 30mg; Total Carbs: 45g; Fiber: 6g; Protein: 6g; Sodium: 250mg.
Recipe and photograph courtesy of CanolaInfo.org.