Quick and Easy Manhatten Cake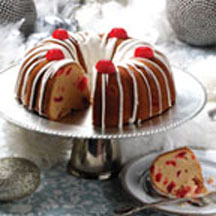 A festive cake that will easily take center stage on the holiday dessert table.
Recipe Ingredients:
Cake:
2 (10-ounce) jars maraschino cherries
1 (18.25-ounce) box super-moist yellow cake mix
3 large eggs
3/4 cup Maker's Mark bourbon
1/4 cup red (sweet) vermouth
1/3 cup vegetable oil
Glaze:
1 cup powdered sugar
2 tablespoons Maker's Mark bourbon
Cooking Directions:
For Cake: Preheat oven to 350°F (175°C).
Drain cherries and reserve 1/4 cup of juice and 6 cherries for garnish; roughly chop remaining cherries.
Combine the cake mix, eggs, bourbon, vermouth, oil and the 1/4 cup reserved cherry juice in a large mixing bowl. Blend with an electric mixer on low speed for 30 seconds. Stop and scrape the sides of the bowl and then mix on medium speed for 2 minutes. Fold in the chopped cherries.
Lightly grease or spray a non-stick Bundt® pan, and pour batter evenly into pan.
Bake in preheated oven on a lower rack until a toothpick inserted into the middle of the cake comes out clean, about 35 to 40 minutes, rotating the pan halfway through baking. Let cool for 15 minutes in the pan.
For Glaze: While the cake is cooling, make the glaze. In a small bowl, mix together the glaze ingredients until smooth.
Unpan the cake onto a cookie sheet or serving platter and drizzle with glaze while cake is still slightly warm. Garnish with reserved maraschino cherries.
Makes 10 to 12 servings.
Recipe created by the Kathy Casey Food Studios for the National Sweet Cherries Foundation.
Recipe and photograph provided courtesy of NationalCherries.com, through ECES, Inc., Electronic Color Editorial Services.