Red Wine Cake with Pistachios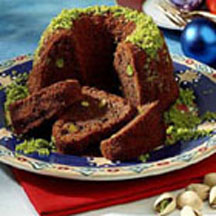 An elegant dessert for a dinner party or gathering that can be made ahead to avoid last minute rushes.
Recipe Ingredients:
1 cup butter or margarine
3/4 cup granulated sugar
1 teaspoon salt
3 large eggs
2 cups all-purpose flour
3 tablespoons unsweetened cocoa powder
2 teaspoons baking powder
1/2 teaspoon ground cinnamon
1 1/3 cups ground California pistachios
3/4 cup dry red wine
1/2 cup whole shelled California pistachios
Cooking Directions:
Preheat oven to 350°F (175°C).
Beat butter with sugar and salt until mixture is creamy and light-colored. Beat in the eggs one at a time.
In a separate bowl, mix flour with cocoa powder, baking powder, cinnamon and all but 2 tablespoons ground pistachios. Stir this mixture alternately with wine into the butter mixture to get a thick batter. Fold in whole pistachios.
Butter a 7 or 8-cup (8 or 9-inch wide) ring mold pan. Spoon batter into pan.
Bake for 35 to 50 minutes or until a pick inserted into center comes out dry. (Deeper, narrower pans take longer.) Cool 10 minutes then gently invert cake from pan. Sprinkle with the remaining ground pistachios.
Makes 12 servings.
Tip: Pulse pistachios in a food processor until coarsely ground.
Recipe and photograph provided courtesy of the California Pistachio Board.