Sour Cream Cherry Cake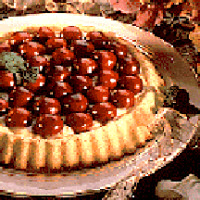 This cake's topping of pitted cherries glazed with currant jelly provides a sweet juicy foil for the creamy interior. The finished cake is beautiful and surprisingly easy to serve. Because the cherries are not cooked, Sour Cream Cherry Cake is quite refreshing. Even the addition of a dollop of sweetened whipped cream won't make this dessert heavy.
Recipe Ingredients:
1 (9-ounce)* package yellow cake mix
1 large egg
1 l/2 cups lowfat milk - divided use
1 (3.5-ounce) package vanilla pudding mix
l/2 cup dairy sour cream
l/2 teaspoon grated lemon peel
2 cups pitted Northwest fresh sweet cherries
2 tablespoons currant jelly, melted
Mint sprigs for garnish (optional)
1 cup sweetened whipped cream (optional)
Cooking Directions:
Prepare yellow cake according to package directions using egg and 1/2 cup milk. Pour batter into flan pan and bake according to package directions.
Prepare vanilla pudding according to package directions using 1 cup milk; remove from heat and stir in sour cream and lemon peel.
When cake is cool fill with vanilla pudding. Top with cherries; brush with melted jelly. Garnish with mint.
Serve with whipped cream, if desired.
Makes 8 servings.
*1 (18.25-ounce) package yellow cake mix may be used. Prepare and bake according to package directions using 2 large eggs and 1 cup milk. Use one layer and reserve second layer for another use. (Wrap and freeze the extra cake layer, if desired.)
Tips:
If flan pan is not available, bake in a 9-inch cake pan. Completely cool pudding; spread pudding on cake and top with cherries as above.

A purchased 8 or 9-inch sponge shortcake may be used.
Nutritional Information Per Serving (1/8 of recipe): 447 Cal., 5.2 g pro., 12.7 g fat (25% Cal. from fat), 81.3 g carb., 42 mg chol., 1.0 g fiber and 538 mg sodium.
Recipe and photograph provided courtesy of Washington State Fruit Commission.