Surprise Cupcakes with Mascarpone Cheese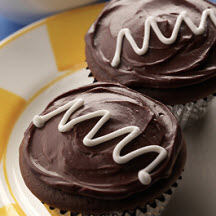 What's better than a chocolate cupcake? A chocolate cupcake with a creamy surprise filling!
Recipe Ingredients:
Filling:
8 ounces Mascarpone cheese, softened
1/2 cup granulated sugar
1 cup semisweet chocolate chips or peanut butter chips
Cupcakes:
1 box dark chocolate or devil's food cake mix
Ingredients listed for cake mix
Frosting:
4 ounces semisweet chocolate bar, broken into chunks (or 2/3 cup semisweet chocolate chips)
1/3 cup plus 1 tablespoon sour cream
Purchased white frosting with decorating tip (optional)
Cooking Directions:
For Filling: In a medium bowl, combine mascarpone cheese and sugar. Stir in chips. Set aside.
For Cupcakes: Preheat oven to 350°F (175°C). Line 24 medium muffin pans with paper liners.
Follow directions on cake mix package.
Fill each muffin liner 2/3 full. Drop heaping teaspoon of filling on top center of each cupcake.
Bake according to cupcake directions on mix package, usually 23 to 25 minutes. (The batter will cover the mascarpone filling during baking.) Remove from oven. Allow cupcakes to sit in pans 2 minutes. Remove cupcakes to rack and cool completely.
For Frosting: Place chocolate in a medium microwave-safe bowl. Cook at high power 1 minute. Stir; continue cooking at high power 30 seconds. Stir until chocolate is completely melted. Immediately stir sour cream gradually into melted chocolate, mixing until smooth. Immediately spread over completely cooled cupcakes*; let stand until chocolate is set, about 15 minutes.
Using white frosting with drawing tip, form squiggles across the cupcake frosting.
Store covered at room temperature up to 2 days.
Makes 24 cupcakes.
*If icing becomes too stiff, microwave at high power 5 seconds to soften.
Recipe and photograph provided courtesy of Wisconsin Milk Marketing Board, Inc.