Sweet Potato Bundt® Cake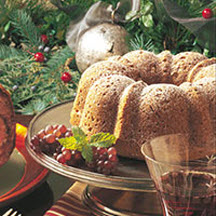 No one will know this delicious sweet potato spice cake is low-fat...unless you tell them.
Recipe Ingredients:
1/2 cup granulated sugar
1/2 cup '1/3 less fat' margarine
3 large egg whites
1 large egg
2 (15-ounce) cans sweet potatoes, drained and mashed (about 2 cups) or 2 cups cooked, mashed fresh sweet potatoes
2 cups all-purpose flour
1 1/2 teaspoon ground cinnamon
1/2 teaspoon ground nutmeg
1 teaspoon baking powder
1 teaspoon baking soda
1 1/2 teaspoon vanilla
2 tablespoons flaked coconut
Cooking Directions:
Preheat oven to 350°F (175°C).
In large bowl, beat together sugar and margarine until blended. Add egg whites and egg, one at a time, beating well after each addition. Mix in sweet potatoes.
In another bowl, mix together flour, cinnamon, nutmeg, baking powder and baking soda. Gradually add flour mixture to first mixture, beating well after each addition. Add vanilla.
Pour half of batter into a 10-Bundt® pan coated with nonstick cooking spray and dusted with flour. Sprinkle coconut over batter. Cover with remaining batter.
Bake for 50 minutes to 1 hour or until a wooden toothpick inserted in center of cake comes out clean.
Cool in pan on wire rack for 10 minutes; invert to serving platter.
Makes 16 servings.
Optional Glaze: In small bowl, mix together 1 cup confectioners'(powdered) sugar, 2 tablespoons milk and 1/2 teaspoon almond extract. Drizzle over cooled cake.
Nutritional Information Per Serving (1/16 of recipe without glaze): CAL 194.9 (16% from fat); FAT 3.717g; PROTEIN 3.211g; CARB 37.81g; CHOL 13.25mg; SODIUM 209.2mg.
Created by Louisiana Sweet Potato Commission spokesperson, Holly Clegg.
Recipe and photograph courtesy of Louisiana Sweet Potato Commission.