Texas Punch Bowl Cake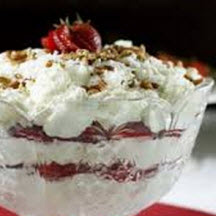 A great party dessert, punch bowl cake is traditionally made in an old fashioned glass punch bowl.
Recipe Ingredients:
1 (4-ounce) package instant vanilla pudding mix
4 cups milk
1 (18.25-ounce) package yellow cake mix
3 large eggs
1/2 cup vegetable oil
1 1/2 cups strawberries, sliced
5 medium bananas, sliced
1 (16-ounce) can pineapple chunks, crushed
1 (8-ounce) container frozen non-dairy whipped topping, thawed
1/2 cup sweetened shredded coconut
1 cup chopped pecans
Cooking Directions:
Prepare instant vanilla pudding mix according to the package directions with 4 cups of milk.
Prepare yellow cake mix according to the package directions in two round cake pans. A yellow cake mix may require up to 3 eggs and 1/2 cup oil. When done baking and cooled. Remove from pan and punch holes in one cake with the handle of a wooden spoon.
In a large punch bowl, layer sliced strawberries, then the cake round with holes, half of bananas, half of the prepared pudding, Next place the second layer of cake, pineapple chunks (drained), the remaining sliced bananas, and the remaining vanilla pudding mix. Top with non-dairy whipped topping. Sprinkle with shredded coconut and chopped pecans. Refrigerate for 1 hour.
Makes 12 servings.