Yam Cupcakes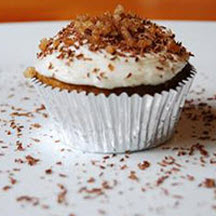 These yummy yam cupcakes are low-fat and packed full of fiber and beneficial nutrients, like beta carotene and vitamin C from the yams. A great choice for lunchbox treats or afternoon snacks for the whole family.
Recipe Ingredients:
1/2 cup granulated sugar
1/2 cup 1/3 less fat margarine
3 large egg whites
1 large egg
2 (15-ounce) cans yams, drained and mashed
2 cups all-purpose flour
1 1/2 teaspoons ground cinnamon
1/2 teaspoon ground nutmeg
1 teaspoon baking powder
1 teaspoon baking soda
Cooking Directions:
Preheat oven to 350°F (175°C).
In large bowl, beat together sugar and margarine until blended. Add egg whites and egg, one at a time, beating well after each addition. Mix in yams.
In another bowl, mix together flour, cinnamon, nutmeg, baking powder and baking soda.
Gradually add flour mixture to first mixture, beating well after each addition. Add vanilla.
Pour batter into a cupcake pan.
Bake for 20 to 25 minutes or until a wooden pick inserted comes out clean. Cool in pan on wire rack.
Makes 16 cupcakes.
Created by Louisiana Sweet Potato Commission spokesperson, Holly Clegg.
Recipe and photograph courtesy of Louisiana Sweet Potato Commission.