Caramel-Nut Popcorn Crunch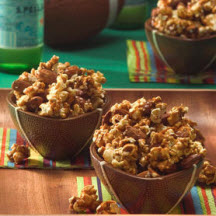 This crunchy, buttery caramel nut popcorn is so yummy, it'll disappear fast—one bite after another.
Recipe Ingredients:
2 1/2 quarts popped popcorn
1 cup pecans
1/2 cup butter
1/2 teaspoon baking soda
1 cup brown sugar, firmly packed
1/4 cup light corn syrup
1/2 teaspoon salt
Cooking Directions:
Spread popped popcorn and nuts in a large shallow pan and place in a preheated 250°F (120°C) oven.
Combine butter, brown sugar, syrup and salt in a saucepan. Cook over medium heat, stirring until sugar dissolves. Wash sugar from sides of pan with a wet brush. Boil until mixture reaches 248°F (120°C), firm ball stage on candy thermometer, about 5 minutes.
Remove from heat and stir in soda. Pour mixture over corn and nuts, stirring gently to coat.
Return glazed popcorn and nut mixture to oven and bake 45 minutes, stirring every 15 minutes. When cooled, pack in airtight tins.
Makes about 2 1/2 quarts.
Recipe and photograph provided courtesy of The Popcorn Board.