Coconut-Ginger Popcorn Truffles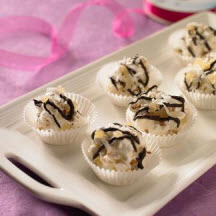 Delightful miniature coconut, ginger and marshmallow popcorn balls decoratively garnished with a drizzle of semisweet chocolate.
Recipe Ingredients:
5 cups air-popped popcorn
2 cups miniature marshmallows
1 tablespoon coconut oil or butter
3 tablespoons candied ginger, minced
1/2 cup shredded coconut
4 ounces semisweet chocolate
1 teaspoon coconut oil or butter
Cooking Directions:
Place popcorn in large bowl.

Place marshmallows and coconut oil or butter in medium saucepan over medium-low heat. Stir until melted; remove from heat.

Stir in shredded coconut and candied ginger. Mix well.

Spray hands with nonstick cooking spray, then scoop up one tablespoon of popcorn mixture.

Roll mixture with hands to form a ball. Place ball on baking sheet lined with parchment paper or foil.

Repeat to make 36 balls.

Place chocolate in small, microwave-safe bowl. Heat in microwave on HIGH for one minute, until melted. If not completely melted, microwave for another 15 seconds and stir again.

Stir 1 teaspoon coconut oil into melted chocolate.

Place chocolate in zipper-style plastic bag and seal. Snip off a tiny corner of bag.

Pipe chocolate on popcorn balls in a decorative pattern.

Garnish with extra shredded coconut and extra minced candied ginger if desired.

Place truffles in a cool place until chocolate is set.
Makes 3 dozen truffles.
Recipe and photograph provided courtesy of The Popcorn Board.