English Toffee Popcorn Bars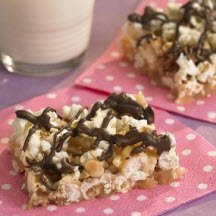 These crunchy, butter toffee bars, loaded with popped corn, peanut and coconut, will be the talk of the party!
Recipe Ingredients:
2 1/2 quarts popped popcorn*
1 cup peanuts
1 cup sweetened flaked coconut, toasted
Toffee:
1 1/2 cups butter or margarine
1 1/2 cups granulated sugar
3 tablespoons water
4 1/2 teaspoons light corn syrup
Chocolate Topping:
1 1/2 cups (9-ounces) milk chocolate pieces
1 tablespoon vegetable shortening
Cooking Directions:
Combine popcorn, peanuts and toasted coconut. Cover bottom of a buttered 15x10 x1-inch jelly roll pan with half popcorn mixture. Keep filled pan and remaining popcorn mixture warm in a preheated 200°F (95°C) oven.
Toffee: Melt butter over low heat in a heavy 2-quart saucepan. Add sugar and blend well. Continue to cook over low heat stirring constantly until mixture reaches a full boil. Add water and corn syrup; mix well.
Wash down sides of pan with a pastry brush dipped in water to remove any sugar granules. Cook and stir over low heat, until mixture reaches soft-crack stage on a candy thermometer (280°F | 135°C).
Immediately pour mixture over warm popcorn in jelly roll pan, making certain all popcorn is covered. Quickly spread and press remaining popcorn mixture into hot toffee. Set aside to cool.
Chocolate topping: Melt chocolate and shortening over low heat. Spread over popcorn mixture, making certain any loose pieces are held in place. Cool. Cut into bars. May be wrapped in plastic wrap for storage.
Makes 20 (4x2-inch) bars.
*1 ounce of unpopped popcorn kernels (2 tablespoons household measure) makes approximately 1 quart of popped popcorn.
Recipe and photograph provided courtesy of The Popcorn Board.