Island Sea Turtles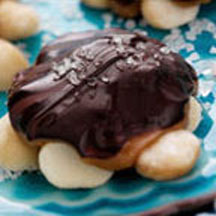 A scrumptious tropical version of the classic candy, each 'turtle' boasts a caramel 'body' laced with toasted coconut, macadamia nut 'feet and head' and a bittersweet chocolate 'shell'.
Recipe Ingredients:
12 ounces dry roasted and salted macadamia nuts
1 cup flaked sweetened coconut
1/2 cup (1 stick) butter
1 cup brown sugar, packed
1/2 cup light corn syrup
1 cup sweetened condensed milk
1 teaspoon pure vanilla extract
12 ounces bittersweet chocolate, coarsely chopped
Sea salt, to taste
Cooking Directions:
Preheat oven to 400°F (205°C). Line 2 baking sheets with parchment paper. Place macadamia nuts in 36 clusters of 4 to 7 nuts each, 2 inches apart; set aside.
Toast coconut in oven for about 5 minutes or until lightly browned. Pulse in food processor or chop into shorter strands.
Butter the inside of a heavy 3-quart saucepan. Melt 1/2 cup butter over low heat. Add sugar, corn syrup and sweetened condensed milk; mix well. Increase heat to medium-high and bring mixture to a boil, stirring frequently. Reduce heat to medium and continue to boil, stirring frequently until mixture reaches 244°F (120°C) on a candy thermometer.
Remove saucepan from heat, stir in vanilla and coconut. Cool slightly; spoon a tablespoon of coconut caramel over each nut cluster; cool completely.
Place chocolate in a microwave-safe dish. Microwave 30 seconds on high, stir and continue to microwave in 10 to 20-second intervals, stirring after each. Chocolate should be smooth, but not warm. Dip tops of caramel-nut clusters in chocolate and sprinkle with sea salt. Place in refrigerator to set chocolate.
Store in an airtight container at room temperature, separating layers with wax paper for up to 1 week.
Makes about 2 to 2 1/2 dozen.
Tip: To prevent the formation of sugar crystals in the caramel, wash down the sides of pan using a pastry brush dipped in water.
Recipe and photograph provided courtesy of Wisconsin Milk Marketing Board, Inc.