Lollipop Hearts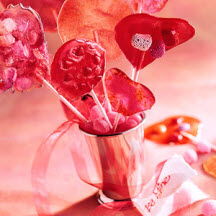 These sweetheart lollipops are easy to make and oh-so-fun to give. Bundle up a bouquet or give them one at a time—either way, there's no better way to say, "Be my Valentine".
Recipe Ingredients:
2 1/2 to 3 1/2-inch round or heart-shaped metal cookie cutters
8 ounces assorted red, pink, and/or clear hard candies
35 to 60 (2 to 3-ounces) assorted small decorative candies, such as red cinnamon candies, small nonpareils, colored candy hearts, spice drops, and gumdrops
Edible rose petals or other flower petals (optional)
Lollipop sticks
Cooking Directions:
Place unwrapped hard candies in a heavy plastic bag, then place bag on top of folded towel and crush candies into small chunks with meat mallet or small hammer.
Make only three or four lollipops at one time. Line a baking sheet with foil. Place desired cookie cutters on foil, at least 2 inches apart. Divide crushed candies evenly among cutters, approximately 1 1/2 to 2 tablespoons per lollipop. Candy layer should be 1/4 to 1/2-inch thick. Add small decorative candies or edible rose or other flower petals to crushed candies. (If using flower petals, make sure they are covered with a layer of the crushed candy.)
Bake in a 350°F (175°C) oven for 6 to 8 minutes or until candies are completely melted. Cool 30 seconds. Remove cookie cutters with tongs, allowing melted candy to spread slightly.
Quickly attach a stick to base of each lollipop, twisting the stick to cover lollipop end with melted candy. If desired, press more small candies or flower petals into hot lollipops. Cool. Peel foil from lollipops.
Makes 8 lollipops.
Safety Note: These lollipops are Not Intended for Children Under Age 3. To prevent choking, the Consumer Product Safety Commission says children under 3 shouldn't handle anything smaller than 2 1/4 x 1 1/4 x 1 1/4-inches.
Make-Ahead Tip: Prepare and cool the candies; wrap with plastic wrap and store at room temperature up to 2 days.
Nutritional Information Per Serving (1/8 of recipe): calories: 135, total fat: 0g, saturated fat: 0g, cholesterol: 0mg, sodium: 11mg, carbohydrate: 34g, fiber: 0g, protein: 0g, vitamin A: 0%, vitamin C: 0%, calcium: 0%, iron: 3%
Recipe provided by Better Homes and Gardens - BHG.com a member of the Home and Family Network for the best of cooking, gardening, decorating and more. © 2003 Meredith Corporation. All Rights Reserved.