Mocha Popcorn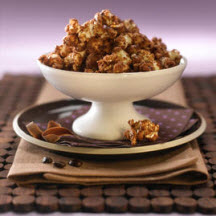 This low-fat mocha popcorn treat is so good, chocolate and coffee lovers will have a hard time resisting the urge for more.
Recipe Ingredients:
3 cups granulated sugar
1/3 unsweetened cocoa powder, sifted
1 tablespoon espresso powder or instant coffee granules
1 cup milk
6 quarts popped popcorn
1/4 cup powdered sugar
Cooking Directions:
Place popcorn in a large bowl that has been sprayed with cooking spray; set aside.

Line a baking sheet or work surface with waxed paper or foil.

Stir sugar, cocoa, instant coffee and milk together in a large saucepan.

Cook until mixture registers 250°F (120°C) on a candy thermometer, stirring occasionally.

Pour hot mixture over popcorn; stir to coat popcorn completely.

Spread popcorn onto prepared surface and allow to cool.

Sprinkle with powdered sugar.

Break into pieces to serve. Store in an airtight container.
Makes 6 quarts; 24 (1 cup) servings.
Recipe and photograph provided courtesy of The Popcorn Board.