Smoky Peanut Brittle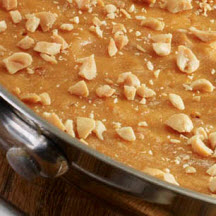 Roasted peanuts lend this classic peanut brittle recipe its tangy, smoky flavor. Recipe created by Hugh Acheson.
Recipe Ingredients:
1 vanilla bean, split lengthwise
3 1/4 cups roasted peanuts
1 cup white granulated sugar
1/4 cup light corn syrup
1 1/4 cups unsalted butter, cubed
1/4 cup honey
Cooking Directions:
Place all ingredients in a stainless steel pan over high heat. While stirring continuously, bring the sugar to a deep caramel color without burning it. When it has thickened and is a nice mahogany color, take out vanilla bean and turn off the heat.
Quickly spray down a parchment sheet with non-stick spray. Place this on a baking sheet and pour the caramel evenly on the parchment. Cool and break up to serve.
Makes 10 servings.
Nutritional Information Per Serving (1/10 of recipe): Calories: 150; Calories from Fat: 110; Fat: 12g; Trans fats: 0g; Cholesterol: 15mg; Carbohydrates: 10g; Protein: 3g; Fiber: 1g; Sodium: 50mg.
Recipe and photograph courtesy of the National Peanut Board.