Arroz con Pollo 2
(Chicken with Rice)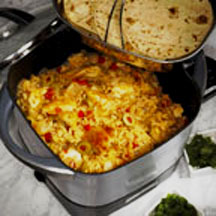 This recipe for the classic arroz con pollo dish features a blend of lean chicken for protein, vitamin C-packed tomatoes and fat-free steamed rice. It is a complete meal with only 380 calories per serving and is packed with vitamins and minerals.
Recipe Ingredients:
1 tablespoon butter
1 1/2 pounds boneless, skinless chicken breasts, cut into 1 1/2-inch pieces
1 cup long grain white rice
1 1/2 cups coarsely chopped white onion
1 1/4 cups reduced-sodium chicken broth
1/2 cup white wine
1/2 cup diced red bell pepper
1/2 cup sliced pimento stuffed green olives
1 teaspoon dried oregano
1/2 teaspoon each: chili powder and ground cumin
2 cloves garlic, minced
1 (4-ounce) can diced green chiles
1/2 cup tomato-based salsa
Chopped fresh cilantro and sliced green onions (optional)
Cooking Directions:
In large skillet, brown chicken in butter.
Stir in rice and cook for five minutes more.
Stir in onion, broth, wine, bell pepper, olives, seasonings, garlic and chiles; cover and cook on the simmer setting for 20 minutes.
Turn off heat and let stand for five minutes.
Stir in salsa and sprinkle with cilantro and green onions, if you like.
Corn tortillas may be warmed in the steamer basket. Place over the cooked chicken and rice and let warm during the five-minute stand time.
Makes 4 to 6 servings.
Nutritional Information Per Serving (1/4 of recipe): Calories: 380, Fat: 7 g, Saturated Fat: 2.5 g, Trans Fat: 0 g, Cholesterol: 80 mg, Sodium: 680 mg, Potassium: 507 mg, Carbohydrates: 40 g, Fiber: 2 g, Sugar: 3 g, Protein: 32 g, Vitamin A: 20 percent, Vitamin C: 60 percent, Calcium: 6 percent, Iron: 20 percent.
Recipe and photograph provided courtesy of www.ritzcrackers.com; through ARAcontent.