Basil and Five-Spice Infused Chicken Legs
with Cantaloupe Salad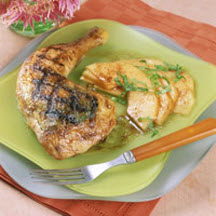 Take advantage of the fruits and herbs of summer with this recipe in which chicken leg quarters are stuffed with fresh basil leaves and marinated in favorite Asian ingredients like lemon grass, soy sauce and five-spice powder. The chicken legs are grilled or broiled, served with cantaloupe slices drizzled with a rice vinegar, brown sugar and five-spice powder dressing.
Recipe Ingredients:
6 chicken leg quarters
16 basil leaves
Marinade:
1 tablespoon five-spice powder
1 stalk lemon grass, coarsely chopped*
1/4 cup soy sauce
2 tablespoons vegetable oil
3 tablespoons water
Cantaloupe Salad:
1/2 teaspoon five-spice powder
2 tablespoons rice vinegar
1 1/2 tablespoons vegetable oil
2 teaspoons brown sugar
1/2 teaspoon salt
1/4 teaspoon black pepper
1 cantaloupe, thinly sliced
12 basil leaves, slivered
Cooking Directions:
Lift the skin on leg quarters and press 4 basil leaves under each. Place chicken in plastic bag that seals.
In blender, mix 1 tablespoon five-spice powder, lemon grass, soy sauce, vegetable oil and water. Purée until smooth. Pour mixture into plastic bag with chicken; seal and shake until chicken is coated. Refrigerate at least 1 hour, or up to 24 hours.
When ready to cook, prepare coals for grill, or preheat gas grill. Place chicken on grill over medium heat and cook, turning, until firm and cooked thoroughly, about 10 to 15 minutes per side.
While chicken is cooking, prepare salad by whisking together in medium bowl 1/2 teaspoon five-spice powder, rice vinegar, 1 1/2 tablespoons vegetable oil, brown sugar, salt and pepper. Set aside.
Arrange cantaloupe slices on serving plates or platter. Drizzle salad dressing over cantaloupe; sprinkle with slivered basil leaves. Place chicken legs next to salad to serve.
Makes 6 servings.
*Or substitute with the zest from 1/2 a lemon.
Tip: Five-spice powder, a spice used extensively in Southern Chinese and Vietnamese cooking, is a rich blend of five single spices, mixed together to stimulate simultaneously all taste sensations: sweet, sour, bitter, pungent and salty. Now sold pre-packaged and pre-blended at most grocery stores, five-spice powder is becoming more familiar to American home cooks who want to add a strong flavor to meats like chicken.
Nutritional Information Per Serving (1/6 of recipe): 370 calories; 10 g carbohydrate; 22 g fat; 5 g saturated fat.
Recipe and photograph provided courtesy of the National Chicken Council. Used with permission.