Chicken Kiev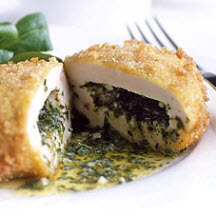 The classic Russian dish, crispy deep-fried breaded chicken rolls filled with herb-seasoned butter.
Recipe Ingredients:
3/4 cup butter
1 teaspoon finely cut chives
1 teaspoon finely chopped fresh parsley
1 teaspoon lemon juice
6 boneless, skinless chicken breast halves
Salt and freshly ground pepper, to taste
All-purpose flour, as needed
2 large eggs, lightly beaten
2 cups fine dry white bread crumbs
Vegetable oil, as needed for deep frying
Cooking Directions:
Knead the butter with chives, parsley and lemon juice until thoroughly blended. Shape the butter into 6 cylinders and freeze.
Place each breast half between pieces of wax paper and pound lightly into a cutlet about 1/4-inch thick. Sprinkle with salt and pepper.
Center a cylinder of butter on each cutlet and fold over one long side, then the short ends and bring up the remaining long side to enclose.
Roll each breast in flour to coast it lightly. Then dip in egg and roll in crumbs. Place on a baking sheet and refrigerate breasts for 2 or 3 hours to let coating become firm.
Heat about 2-inches (enough to immerse the breasts) to 360°F (180°C) in a deep-fat fryer or Dutch oven.
Deep-fry 2 to 3 breasts (do not crowd pan) at a time for 5 minutes, or until golden brown, turning often. Drain on paper towels. Serve hot.
Makes 6 servings.