Chicken Kiev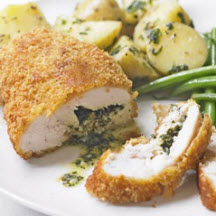 A classic Russian dish, these crispy-fried breaded chicken rolls are filled with a garlic and herb-seasoned butter. A wonderful dish for entertaining.
Recipe Ingredients:
1 cup butter, softened
2 tablespoons snipped parsley
1 1/2 teaspoons dried tarragon leaves
1 teaspoon snipped chives
1 clove garlic, crushed
1 teaspoon salt
1/8 teaspoon ground black pepper
12 boneless, skinless chicken breast halves
1/2 cup all-purpose flour
5 large eggs, well beaten
2 cups dry bread crumbs
Wooden toothpicks
Vegetable oil for frying
Cooking Directions:
In a small bowl, blend butter, parsley, tarragon, chives, garlic salt and pepper. Shape into a 4-inch square on aluminum foil. Wrap and freeze until firm, 30 to 40 minutes.
Place chicken breasts between two pieces of plastic wrap; pound to 1/4-inch thickness.
Cut frozen butter square into 12 pieces. Place 1 piece of butter in the center of each chicken breast. Fold chicken over butter, making sure butter is sealed completely inside chicken. Fasten with wooden picks.
Roll chicken in flour; dip in beaten eggs and coat with bread crumbs; repeat.
Heat 3 to 4-inches of vegetable oil in deep fryer to 340°F (170°C). Fry chicken, 3 pieces at a time, until deep golden brown, about 8 minutes, turning if necessary; drain.
Makes 12 servings.
Tip: Chicken can be refrigerated, covered, after frying for up to 6 hours. About 45 minutes before serving, preheat oven to 350°F (175°C). Cover and bake chicken 30 minutes. Uncover and bake 5 minutes.