Chicken and Peanuts with Noodles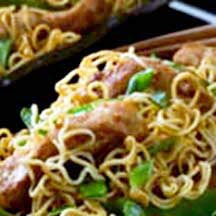 No need to order take-out! This quick and easy Thai-style stir-fry dish will satisfy your craving and keep your budget on target. This delicious recipe is from the Florida Culinary Institute, West Palm Beach, FL.
Recipe Ingredients:
1 teaspoon granulated sugar
1 1/2 teaspoons cornstarch
1 tablespoon gingerroot, minced
1/4 cup plus 2 tablespoons low sodium soy sauce - divided use
1/4 teaspoon hot red pepper sauce
3 cloves garlic, minced
1/4 cup peanut butter
1 tablespoon rice wine vinegar
1 cup water
1 pound boneless, skinless chicken breast halves, cut into 1/4-inch-thick strips
2 teaspoons vegetable oil
2 cups snow peas, cut in half lengthwise
6 green onions, sliced thin
1 (8-ounce) package soba noodles, cooked according to package directions
1/2 pound spaghetti noodles
1 tablespoon sesame oil
1/2 cup roasted peanuts, shelled
Cooking Directions:
In small bowl, mix together sugar, cornstarch, gingerroot, 1/4 cup soy sauce, hot pepper sauce, garlic, peanut butter, rice wine vinegar and water. Whisk until well blended. Pour mixture into a large, plastic zipper bag; add chicken tenders. Close and turn bag to coat the chicken. Refrigerate for at least one hour. Remove chicken from bag, reserving marinade.
In large skillet or wok, heat oil. Add chicken and stir-fry for about 3 or 4 minutes or until cooked through and lightly browned. Add reserved marinade and bring to a boil, stirring constantly. Cook 1 minute.
Add snow peas, cook for an additional minute.
Add green onions, reserving 2 tablespoons for garnish. Stir to combine and remove from heat.
In large bowl, combine hot noodles, remaining 2 tablespoons soy sauce and sesame oil. Stir to blend. Add chicken mixture and peanuts; mix well.
Divide among plates; garnish with reserved green onions.
Makes 4 servings.
*Or substitute with 8 ounces of spaghetti, vermicelli or linguine, cooked according to package directions.
Recipe and photograph provided courtesy of the National Chicken Council. Used with permission.