Chicken and Poblano Tamales with Cilantro Crema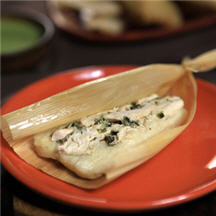 Tamales are wintertime food in the American Southwest, and a Christmas Eve must in the Mexican-influenced cuisine so popular there. Days before, families gather round to fix these delicious bundles with savory fillings for entrées and sweet fillings for dessert.
Recipe Ingredients:
1 (8-ounce) package dried corn husks
2 cups hot water
2 MAGGI Chicken Flavor Bouillon Tablets, crushed (or 2 teaspoons granulated)
2 cups instant corn masa mix for tamales
2/3 cup vegetable shortening
1 teaspoon baking powder
1 1/4 teaspoons salt - divided use
3 cups shredded cooked chicken
1 (7.6-ounce) can NESTLÉ Media Crema - divided use
3 roasted, peeled and deveined poblano chiles, finely chopped
1/2 cup fresh cilantro
Cooking Directions:
Place corn husks in a large stock pot. Add enough water to cover completely. Bring to a boil over high heat. Remove from heat; let stand with a heavy bowl or plate on top of the husks to keep them covered in water.
Combine water and bouillon in a medium size bowl or measuring cup; stir until bouillon is completely dissolved.
Mix bouillon mixture and corn masa mix in a large bowl with a fork to form wet, but not runny, dough; set aside.
Blend shortening, baking powder and 1 teaspoon salt with an electric mixer on medium-high speed for 1 minute or until light and fluffy. Continue beating on medium speed while slowly adding the blended corn masa mix. Beat for 5 to 7 minutes. The mixture should be light and spongy. The batter is ready when a 1/2 teaspoon of the dough will float briefly in a cup of cold water. Refrigerate mixture.
Mix chicken, 1/2 cup media crema and chiles in a large bowl.
Drain corn husks. Spread out one of the corn husks with the pointed end towards you. Spoon 3 tablespoons of masa in a rectangle on the corn husk, leaving a 1-inch border on the sides. Place 2 tablespoons chicken mixture down the center. Pick up one side of the corn husk and fold it over the other side; repeat with the other side. Fold up the ends and turn over to keep tamales from unfolding.
Fill tamale steamer with 2 to 3 inches of water. Cover the steamer basket with a layer of corn husks. Stand tamales in the steamer. Use extra corn husks to fill around the tamales to keep them in place and to cover the top of the tamales. Bring to a boil; cover with a tight fitting lid. Reduce heat to medium; cook for 1 1/2 to 2 hours. Refill steamer periodically with water so tamales don't burn. Tamales are ready when the masa does not stick to the corn husk when unrolled. Let stand for 10 minutes before serving.
Place remaining media crema, cilantro and remaining 1/4 teaspoon salt in blender; cover. Blend until smooth. Serve at room temperature with the tamales.
Makes 16 tamales.
Tip: 1 1/2 cups bottled or canned green salsa can be used in place of poblano chiles.
Recipe and photograph are the property of Nestlé® and Meals.com, used with permission.