Chicken Kabobs with Avocado Salsa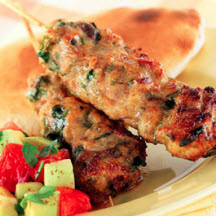 These kabobs are great for barbecues, or even as a quick family meal idea.
Recipe Ingredients:
Kabobs:
1/2 pound minced boneless chicken thighs or breast (chop in a food processor)
3 tablespoons fresh bread crumbs (make in a food processor or blender or crumble by hand)
1 clove garlic, crushed
1 small onion, finely chopped
1 tablespoon chopped fresh coriander
1 large egg beaten
Salt and ground black pepper
Salsa:
1 small avocado
Juice of half a lime
1/2 teaspoon chili powder
3 tomatoes, chopped - don't need to skin them or chop them finely
1/2 tablespoon chopped fresh coriander or cilantro
4 pitas for accompaniment
Cooking Directions:
Combine all the ingredients for the kabobs and divide mixture into 4 parts. Shape into sausage shapes around the 4 skewers. If the kabobs are not required immediately chill the skewers of meat until required.
Grill or barbecue for about 15 to 20 minutes, turning until brown and cooked through.
Meanwhile combine all the ingredients for the salsa, season well.
Heat the pitas and split length-ways. Fill with salsa and the grilled kabobs.
Makes 4 servings.
Note: If you are using wooden skewers soak them in water for at least an hour before hand and this will stop them burning when you grill or barbecue them.
Nutritional Information Per Serving (1/4 of recipe): Calories: 431; Total Fat: 16g; Saturated Fat: 6g; Total Carbs: 55g; Fiber: 3g; Sugar: 6g.
Recipe and photograph courtesy of the Flour Advisory Bureau.