Chicken Roulades with Provolone and Peppers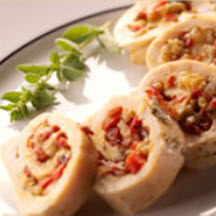 With a little extra effort, chicken breasts are transformed into an extraordinary dish, each colorful slice displays a savory filling of provolone, roasted red peppers and bits of bacon. Impressive enough to serve guests, easy enough to serve for a family weeknight dinner.
Recipe Ingredients:
1 1/2 teaspoons dried oregano - divided use
1 cup (4 ounces) shredded provolone cheese - divided use
4 boneless, skinless chicken breast halves
1 tablespoon vegetable or olive oil
1/2 cup yellow onion, chopped
1 cup chopped roasted red peppers, drained and dried
Salt and pepper, to taste
4 strips bacon, fried crisp, drained and crumbled
Cooking Directions:
Butter a baking pan than can accommodate the roulades in one layer (at least 8 inches square).
Mix 1/2 teaspoon of the oregano and 2 tablespoons of the provolone in a small bowl. Set aside.
Place one piece of chicken between two sheets of wax paper. Pound until thin, about 1/4 inch thick. (Or, ask the butcher to do this step for you.) Repeat with the remaining chicken breasts. Refrigerate.
Heat the oil in a medium skillet. Add the onion and sauté until soft, 7 to 10 minutes. Add the roasted red peppers and 1 teaspoon oregano. Heat through. Remove from the heat and cool. Stir in the remaining cheese.
Preheat oven to 375°F (190°C).
Remove the chicken from the refrigerator. Lay each piece flat. Season with salt and pepper. Spread a generous 1/4 cup of the pepper filling over each chicken piece, leaving the edges bare. Roll each piece jellyroll-style. Place the chicken seam side down in a baking dish. Bake for 30 minutes.
Remove the chicken from the oven and sprinkle with the reserved cheese-oregano mixture and bacon crumbles. Return to the oven for 5 minutes, until the cheese melts and the juice from the chicken runs clear.
Makes 4 servings.
Recipe and photograph provided courtesy of Wisconsin Milk Marketing Board, Inc.