Chicken Satay with Peanut Sauce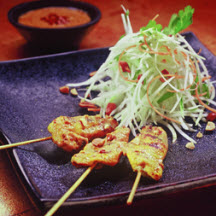 Recipe courtesy of National Peanut Board.
Recipe Ingredients:
Kabobs:
4 skinless, boneless chicken breasts (about 1 1/4 pound) cut into 1-inch cubes
3 tablespoons soy sauce
2 teaspoons sesame, peanut or olive oil
2 tablespoons finely chopped cilantro or parsley
2 cloves garlic, crushed
Pinch of coarsely ground black pepper
8 ounces fresh mushrooms
1 sweet green pepper, cut into 1-inch squares
1 sweet red pepper, cut into 1-inch squares
1 small red onion, quartered and separated into layers
1 tablespoon sesame seeds
Peanut Sauce:
1 teaspoon olive oil
1 onion, finely chopped
1 teaspoon chili powder
1 teaspoon tomato paste
2 tablespoons water
1/4 cup chunky peanut butter
3/4 cup 2% milk
Cooking Directions:
In a medium bowl, stir together chicken, soy sauce, sesame oil, coriander, garlic and pepper. If time permits, cover chicken, place in the refrigerator and let marinate for 30 minutes or overnight.
Preheat barbecue grill to medium-high. If using bamboo skewers, soak in water for 30 minutes.
Thread 8 long skewers alternately with the chicken and one piece of each of the vegetables. Discard any leftover chicken marinade.
Place skewers on greased barbecue grill. Close lid and grill for 12 to 15 minutes, turning several times or until chicken is cooked through.
Meanwhile, make the dipping sauce by heating oil in a nonstick frying pan over medium-high heat. Add onions and cook for 4 minutes or until translucent.
Mix the chili powder with the tomato paste and water; stir into onions and cook for 1 minute. Stir in the peanut butter and the milk; reduce heat to medium-low and cook for 4 minutes or until mixture just begins to thicken.
For a spicier sauce, add 1 teaspoon of Cajun spice or crushed hot pepper flakes, or add a chopped seeded jalapeño pepper. Sprinkle the cooked kabobs with sesame seeds and serve hot with the peanut dipping sauce.
Makes 4 servings.
Nutritional Information Per Serving (1/4 of recipe): Calories: 400; Total Fat: 18g; Cholesterol: 100mg; Total Carbs: 18g; Fiber: 4g; Sugar: 8g; Protein: 46g; Sodium: 940mg.
Recipe and photograph courtesy of National Peanut Board.