Chicken Sauté with Pineapple and Lemongrass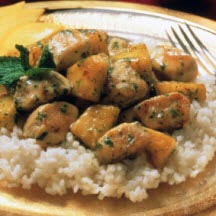 Indonesia is the culinary crossroads of the East, its cuisine influenced by India, China, the Arab world, Southeast Asia and Europe. Out of this diversity has come a dynamic fusion cuisine in which chicken plays a major role.
Flavored with ginger, cilantro and mint, the chicken in this dish is coated with a sauce and then served over rice or noodles. Try it with chunks of chicken thigh meat, rather than boneless, skinless breasts, for an even bolder chicken flavor.
Recipe Ingredients:
1 1/2 cups chicken broth
3 stalks lemongrass, chopped into 2-inch pieces
1 piece ginger, about 2 inches, coarsely chopped
1 teaspoon lime zest
2 tablespoons Thai fish sauce (optional)
1 tablespoon vegetable oil
4 chicken breast halves, skinless and boneless (about 1 1/2 pounds), cut into 1-inch chunks
2 1/2 tablespoons cornstarch
4 cups fresh pineapple chunks, about 1 inch each
1 teaspoon salt
2 tablespoons cilantro, chopped
2 tablespoons mint, chopped
Cooking Directions:
Place chicken broth in small saucepan. Add lemon grass, ginger and lime zest. Bring to a simmer; cover and cook for 10 minutes. Stir in fish sauce (if using); set aside.
While the chicken broth mixture is simmering, warm vegetable oil over high heat in a large, non-stick skillet or wok.
Toss chicken chunks in cornstarch. Add chicken to heated oil in two batches; sauté until golden brown, about 5 minutes. Remove chicken, place on plate and set aside. Add pineapple chunks to pan and sauté quickly, about 2 minutes.
Return chicken to skillet or wok. Pour chicken broth into pan through strainer, separating out lemongrass, ginger and lime zest pieces. Discard these pieces. Stir over high heat until sauce reaches simmer, about 1 minute. Reduce heat to low and simmer for 4 minutes, until sauce has thickened lightly. Add salt. Sprinkle with cilantro and mint. Serve immediately over rice or noodles.
Makes 4 servings.
Recipe and photograph provided courtesy of the National Chicken Council. Used with permission.