Chicken Schnitzel with Lemon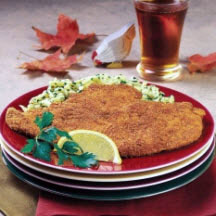 The German word for 'cutlet', schnitzel describes flattened meat that is dipped in egg and then breaded and fried.
This chicken schnitzel is a simple, delicious breaded chicken dish, made tangy with the flavor of lemon. Serve with mashed potatoes, rye rolls and a dark green vegetable like spinach or green beans for a complete meal. For an even more authentic German experience, add a rich German beer.
Recipe Ingredients:
4 boneless, skinless chicken breast halves
1/3 cup all-purpose flour
1/2 teaspoon salt
1/4 teaspoon black pepper
2 large eggs
1 cup fine, dry bread crumbs
1/4 cup vegetable oil
2 tablespoons butter
1 lemon, cut into wedges
Cooking Directions:
Lay chicken breasts between 2 sheets of plastic wrap and pound into 1/4-inch thickness.
In shallow pie pan or dish, mix together flour, salt and pepper. In second shallow dish or pan, beat eggs lightly. In third shallow dish or pan, place bread crumbs.
One at a time, dip each chicken breast half first into the flour mixture, coating thoroughly and dusting off excess. Dip chicken breast next in egg, covering completely. Finally, coat chicken with bread crumbs. Place each breaded chicken breast half on plate or on small sheet pan.
In large, non-stick skillet, place vegetable oil and butter. Warm over medium heat. Place chicken in skillet, cooking while turning, browning very well on both sides, about two minutes per side. Transfer chicken to paper-towel-lined plate or sheet pan.
Serve with lemon wedges.
Makes 4 servings.
Recipe and photograph provided courtesy of the National Chicken Council. Used with permission.