Chicken Stuffed with Fontina Cheese and Ham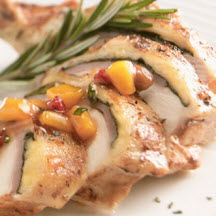 This elegant entrée offers two culinary ideals for entertaining special dinner guests—sensational taste and an impressive presentation. Recipe by Chef Todd Downs.
Recipe Ingredients:
Bourbon Peach-Peanut Relish:
1 tablespoon unsalted butter
1 (16-ounce package) frozen peaches, diced and dried (about 3 cups)
1/2 cup bourbon
1/2 cup brown sugar, packed
1 serrano chile, seeded and minced
1/4 cup diced roasted red pepper
2 teaspoons rice wine vinegar
1/2 cup unsalted peanuts, toasted
Compound Butter:
1/4 pound (1 stick) unsalted butter, softened
1 tablespoon chopped fresh rosemary
1 clove garlic, minced
2 teaspoons Tabasco® sauce
Freshly ground pepper, to taste
Chicken:
6 slices Black Forest or Bavarian ham
4 cups raw baby spinach, sautéed and blotted dry
6 slices fontina cheese
6 bone-in chicken breasts, with rib bones only removed (leave skin on)
Chopped rosemary or peanuts, for garnish (optional)
Cooking Directions:
For Bourbon Peach-Peanut Relish: Heat a large sauté pan over medium heat. Add the butter and cook until it foams. Add the peaches and sauté, about 30 seconds. Add the bourbon and continue to cook 2 to 3 minutes. Add the brown sugar and cook just until it dissolves and the bourbon evaporates, 3 to 5 minutes. Transfer the mixture to a medium bowl and cool. Add the remaining relish ingredients. Toss well and reserve.
For Compound Butter: In the bowl of an electric mixer, combine all of the ingredients and mix well. Reserve at room temperature.
For Chicken: Preheat oven to 400°F (205°C). Make 6 stacks, layering the ham slices, spinach, and cheese. Stuff each chicken piece, placing one stack between the skin and meat of each piece. Rub the tops of the chicken pieces with the compound butter, and place them on the baking sheet. Bake, skin side up, for 20 to 25 minutes or until the internal temperature reaches 160°F (70°C).
To serve, place 1 breast on each of six serving plates. Top each with a portion of the relish. Sprinkle the chopped rosemary or peanuts around the chicken, for garnish, if desired.
Makes 6 servings.
Recipe and photograph provided courtesy of Wisconsin Milk Marketing Board, Inc.