Easy Baked Hawaiian Chicken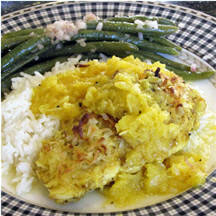 Your whole family will love this easy, tropical chicken dish made with fresh or canned pineapple, mildly seasoned with curry powder and topped with coconut that crisps as it bakes. This is a dish that is easy enough to serve on a weeknight, and good enough to serve company. Serve with Coconut Rice and Warm Green Beans Vinaigrette.
Recipe Ingredients:
1 fresh pineapple*
1 tablespoon curry powder
1 1/2 teaspoons kosher or sea salt
1/4 teaspoon freshly ground black pepper
1 teaspoon granulated sugar
3 tablespoons vegetable oil
6 to 8 (8-ounce) boneless, skinless chicken breast halves
1/2 cup sweetened flaked coconut
Hot cooked jasmine rice, or other long grain rice for accompaniment (optional)
Cooking Directions:
Preheat oven to 400°F (205°C).
Peel, core and cut up pineapple into chunks and place in a food processor and process using short, quick pulses just until the pineapple is crushed, being careful to not over-process.
Pour the crushed pineapple, including the juice, into a 13x9x2-inch glass baking dish.
In a large bowl combine curry powder, salt, pepper, sugar and oil; add the chicken breasts and roll in mixture, coating well on all sides.
Place chicken on top of the pineapple and top with any remaining curry mixture. Distribute the coconut evenly over the chicken breasts.
Bake, uncovered for 30 minutes or until chicken tests done when no longer pink and the juices run clear.
Serve accompanied with hot cooked jasmine rice, if desired.
Makes 6 to 8 servings.
*Or substitute with 1 (20-ounce) can crushed pineapple, undrained.
Variation: Replace the chicken breasts with ham steak. This suggestion was recommended by a site visitor in 1999, Dotty B. who reported the results as "great!". Thanks Dotty! And, I might also add that pork chops are an excellent variation, too.
Nutritional Information Per Serving (1/6 of recipe using six 8-ounce chicken breasts; does not include rice): 383.9 calories; 28% calories from fat; 12.1g total fat; 131.5mg cholesterol; 620.1mg sodium; 706.9mg potassium; 13.9g carbohydrates; 1.8g fiber; 8.0g sugar; 12.2g net carbs; 53.2g protein.
Recipe and photograph by Hope Cantil, owner of CooksRecipes.com; copyright © 1999; property of CooksRecipes.com. See Terms of Use.